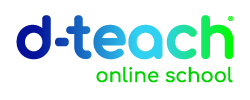 D-teach online school is an international not-for-profit organisation and the first online school in Belgium with almost 10 years of experience in online teaching. 
As a bridge organisation between Belgium and the world, we are committed to internationalisation and re-integration. We offer personalised online education tailored to your needs, and delivered by a qualified topteam of teachers, pedagogues and speech therapists.
We have more than 10 years of experience in online and blended learning, and we are happy to share that expertise with you. After all, online learning makes lifelong learning easy and effective.
Do you want your employees to be up to speed, anytime and anywhere? We have a team of enthusiastic and multidisciplinary experts ready to support your company or organisation. We help you make the transition from offline to online learning.